| | |
| --- | --- |
| Jayce's Super Seductive, Super Messy Striptease! | |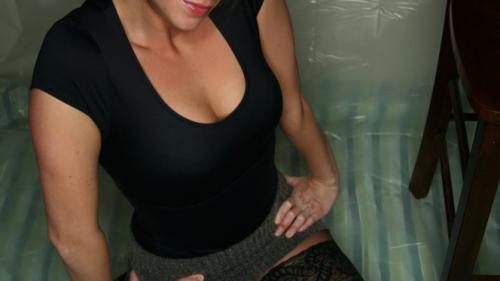 Starring the following model:
"Jayce really can't get much sexier in this video! striptease with mess!"
| | |
| --- | --- |
| File count: | 1 |
| Total size: | 166.39 MB |
| Runtime: | 12 mins, 37 secs |
| Released: | 11/03/16 |
| Produced: | 2012 |
| Rating: | |
| Reviews: | 1 |
| Views: | 18305 |
| Scene ID: | 3866 |

$6.99



Jayce starts off by dancing around a chair filled with shaving foam in her layered stockings, super sexy heels, flirty skirt and super tight black shirt, she then proceeds to sit in the shaving foam in her skirt and grinds into the chair, she then turns around and takes off her skirt. She then gets out the scissors and begins to rip and tear the first layer of stockings she has on and really gets into it! after that, she dances towards a fruit filled blueberry pie and sit in the chair spreading her legs in a v while sitting in the chair and planting the pie right on her pussy! Jayce then begins to really get into it by rubbing in the pie and rubbing herself against the chair and pie. She then removes her black sexy, silky shirt and pies herself with a green pie on her stomach, she then grabs the pink batter, wraps her legs on the back of the chair and lays back down the chair, and pours all of the batter on her pussy, that eventually makes it's way to her face since she is upside down...After that, Jayce grabs the milky dessert topping and takes two bottles at a time and totally covers her face while licking and spitting some out. Jayce decides to dance around for a while in her mess, making sure to get her shoes dirty. Jayce decides to fill up her undies with chocolate batter and is shocked by how much they hold! (and this lingerie IS Hot!) She then gives herself wedgies until the batter is pretty much gone. jayce then seductively takes her top off. Jayce gets in the floor and smashes two pies in her face at once...she then gathers all of the mess into a pile, removes her undies and decides to sit in in, rubbing herself all around in the mess on her butt and other places ;) She then lays down flat in the mess and puts a pie right in front of her and face plants into the pie...then, Jayce does a pov shot of pouring chocolate sauce on her face, camera person grabs her chin so you can see and rubs it in her face. This video contains lots of close ups of grinding, pie planting, wedgies and panty filling. You will Not BE dissapointed!

Report