| | |
| --- | --- |
| Jayces YouTube What Am I Wearing-Slime Style! | |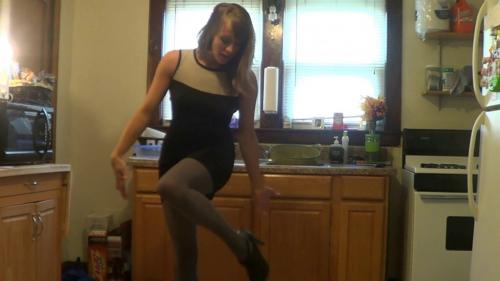 Starring the following model:
"Cute vintage mini dress, hosiery and heels, she shows how to"
Jayce plays on exactly the youtubes "what am i wearing" which is where girls get on, show off their outfits for the day, the designers and why they chose that particular pieces and accessories. Jayce is wearing a vintage 90's mini dress with deep purple hosiery and nine west heels. She shows off her outfit, piece by piece explaining why she chose it. Then Jayce shows us how "layering" is going to be a big thing this winter. How you can still wear your summer stuff if you just pair it with the right stuff and layer it with the right pieces...which in this case...IS slime! Jayce layers on all different consistencies of slime with blue, orange and green and then a final "layer" of pourable shaving cream mixture that gives her quite a "yelp!" Jayce continues on through all the layers talking about how they will work for the season and just continues to pour them on. She stand up to show off her outfit after every layer> Cute video, cute model, super cute outfit! Loads of colorful slime in all consistencies! A great little piece that is upclose and personal stuff only Jayce can bring! Enjoy!
| | |
| --- | --- |
| File count: | 1 |
| Total size: | 243.93 MB |
| Total runtime: | 7 mins, 34 secs |
| Date added: | 12/09/16 |
| Year produced: | 2012 |
| Reviews: | 1 |
| Views: | 8301 |
| Scene ID: | 5833 |

$5.00




Report
Reviews:
"What a fashion slime review!"
delete I know how Jaycee is into clothes and fashion and this fashion edition is spectacular! If you are into clothing and fashion you will love her description of what she is wearing today, but if you're not don't leave because she quickly goes from describing her clothes that she is wearing to how they can be further accented with various slime objects of color! She describes each application as if it were a piece of clothing being added to the outfit for a different option for the ensemble! It is so funny yet for the gunge or slime fans there is terrific covering. Jaycee and Jilly are so funny and the the production is so good! A hearty recommendation from me!

Report
More scenes
Tell others about this scene:
* Promo refers only to
Jayce Lane's House of Mess
's download scenes. The lowest-priced item(s) in your cart from this producer will be made free once you have the required number of items in your cart.