"Wow!"
delete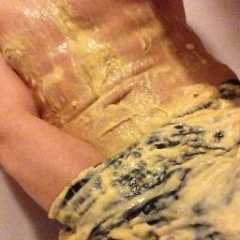 Great idea for a scene, love the idea of the revenge messing! to start with jayce looks so fucking hot in that white lingerine adding pies and slime to the mix makes everything so much better! the gunge looks amazing, great colour to it and looks incredibly thick and gooey! As with all of Jayce's scenes she looks as if she is properly loving life making it even better for me to watch! When she pulls Ariel into the mess and plays with her just completes the scene seeing both of them in a big sexy gooey mess.
"Everything is better with a friend."
delete Pros of the video:

Jayce looks amazing and her outfit is stunning. Jayce has a lot of fun with her hitachi and it is all natural.

There is a lot of mess and Ariel pouring the slime and throwing the pies means that Jayce is free to have fun. Ariel gets messy too, which was a bonus. A lot of mess features in this video so if you're a fan of lots of mess this is great. The video is set on a bed and although tarp and covers are used it looks more natural. This video features Jayce naked, what's not great about that?

Cons of the video: If I'm being picky there could be a greater variety of mess used. Overall, this video is great and if you like, nudity or masturabtion in your wam then you'll love this video!
"Sexy video from Jayce with some support from Ariel"
delete As always, from the house of mess, the video quality of this one is excellent. The 720HD picture is perfectly clear. It is shot with a still camera, but the action is well framed.

Jayce starts out in panties and a bra playing with a hitachi, and looks very sexy doing it. After staying clean for a short while, Ariel starts to slime and pie her, and there is banter back and forth between the two of them throughout the video. Eventually Jayce loses the bra, and later on is fully nude.

At the end, after Jayce has finished playing with the hitachi, Ariel is pulled in to the mess as well, and loses her bra as well. She fully strips just before the video ends.

This is another very sexy video from Jayce. Although the action is mainly focuses on Jayce, both girls end up fully covered in slime by the end of the video.

Highly recommended.
"When Jayce has the Hitachi, fun will ensure."
delete

Three little letters come to describe this latest gem Wow! Jayce stars us off clean and semi dressed and having a personal moment. Only to have Ariel walk in and catch her in the act. A very nice messing is applied by Ariel during Jayce's second "cummming." We are treated to an amazing ending that ends with Jayce pulling Ariel down into the mess that has been made on that bed. At this point many a fans dreams are now right before their eyes. Jayce and Ariel on a messed up bed and there's a Hitachi....... sign me up. :)